Growing Needs for Translation & Interpretation at Hospitals
June 13, 2016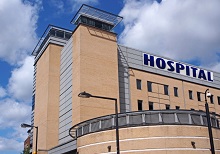 The number of foreign visitors to Japan has been increasing owing to the weak yen and the "Cool Japan" promotion. In addition, the acceptance of foreign workers is expanding in preparation for the 2020 Tokyo Olympics. Consequently, there will be more chances to deal with foreigners who are sick, or who are visiting Japan for medical tourism; thus the need for translation and interpretation in the medical field is growing each year.
The Current Situation of Accepting Foreign Patients at Hospitals
In a survey conducted in major hospitals in Tokyo, about 80% of hospitals responded that they are not able to adequately handle foreign patients. Their reasons were: they cannot support foreign languages except English; their communication capability with foreign patients is insufficient; they cannot quickly respond to foreign patients' visits; etc.
It appears that many hospitals accept foreign patients if the patients speak languages the hospital can support, otherwise they refuse to see foreign patients. As the number of visitors from Asia to Japan is multiplying, the demand for Chinese and Korean interpreters is rising. Interactions at hospitals accepting foreign patients have improved greatly from what they used to be due to the advancement of the Internet and communication devices. However, a great problem still remains that patients may not be able to receive medical care depending on the language they speak.
Efforts and Challenges
Efforts are currently underway to welcome foreign patients, to provide multi-language documents, forms and in-hospital signs, as well as allocating multilingual staff. Medical Associations in each prefecture are preparing manuals for dealing with foreign patients, translating documents that are frequently used in hospitals then posting them online. In this way, healthcare institutions are making progress through various approaches.
On the other hand, it places a significant burden on hospitals to have documents and in-hospital signs translated, and/or prepare manuals for foreigners at each hospital. If hospitals share information and improvement ideas, it can alleviate the burden on individual hospitals, and it would lead to better response.
To Enable Patients to Receive Medical Care with an Easy Mind
It is also important to consider the cultural and custom differences of each country when promoting multilingual services. Each country and each region has different culture and customs, and methods of medical treatment are also different. There are some cases where foreigners feel uneasy or misunderstood when they receive medical treatment in Japan because of the differences from their own country.
For instance, foreigners thought Japanese dentists were price gouging, since dental work in Japan is often broken up into multiple sessions, whereas dental work in their home countries is combined into fewer sessions. Also, some foreigners say that doctors in their home country explain bad news first, but doctors in Japan give a comprehensive explanation, which makes it difficult for them to understand.
Since everyone tends to feel anxious when receiving medical treatment, it is necessary to be considerate of the patient's background, such as cultural and custom differences. On that basis, translations should be performed keeping in mind to relieve patients' anxiety, and not just as a simple language conversion.
Summary
There are possibilities where health conditions can worsen if people hesitate to see a doctor because of the language barrier, and this could lead to life-threatening situations. In order to reduce such instances as much as possible, and to make expats and tourists' stay in Japan comfortable, translation of medical related information is essential. It is necessary for healthcare institutions, the government, translators and interpreters to work in further cooperation to create an environment where foreigners can receive healthcare with ease of mind and no hesitation.
Related Services
To Contact Us Regarding Our Translation Services
For urgent needs, call:
+81-3-5730-6133