Process: From Ordering Translation to Making Payment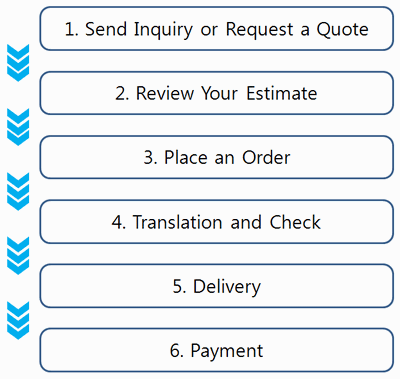 STEP 1: Send Inquiry or Request Quote
Send us an inquiry or request a quote for your translation needs. Please provide us with the specifics of the work to be performed, including language(s), amount of contents, requested delivery date, and purpose of the translation. Sending the source file to be translated makes for a smoother estimation process.
STEP 2: Review Your Estimate
We will send you an estimate of the translation including cost and target delivery date.
STEP 3: Place an Order
Contact us and place a work order for the translation by accepting the terms outlined in the estimation. Translation work will commence once a work order is confirmed.
STEP 4: Translation and Check
Translation work is carried out in three major steps:
Translation -> Check -> Confirmation of corrected sections (by the translator). The translation and translation check are performed by two different translators to ensure consistency and high level of quality.
STEP 5: Delivery
We make every effort to deliver the translation file on or before the date agreed upon. Upon receipt of the translated material, please check the contents and direct any inquiries to the project manager in charge.
STEP 6: Payment
An invoice will be sent after all translation files are delivered to you. The invoice will include information on payment due date and details of our designated bank account.

Please note that individuals and first-time clients are requested to make payment in advance.