A Newly Emerging Economic Power - Indonesia and its Language
August 7, 2017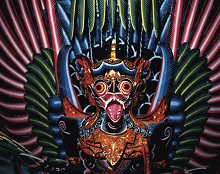 Hello. I am Yucchi, a fledgling translator who transferred last autumn from a different field. I've only just started in translation so I have much to learn, but I'm studying hard with the help of my seniors.
In Japan, the aging population is a big problem. I saw an article the other day that said "the decrease of the population aged 15 to 64, otherwise known as the working-age population, has an impact on the economy." That got me wondering which countries had the largest working-age population, and I learned that Indonesia was attracting attention for its large population as well as its low average age. Here is what I found on Indonesia.
Indonesia, a Vibrant Developing Country with Youthful Energy
According to the website of the Ministry of Foreign Affairs, the land area of Indonesia is five times that of Japan. With 240 million people, its population comes fourth in the world after China, India, and the U.S. Contrary to Japan's seriously declining and aging population, Indonesia's population structure is an ideal pyramid, and has the potential to become an enormous market. According to "DIAMOND online," Indonesia's average age is 28. Compare that with Japan's 44, and you can get an image of how young Indonesia's population is.
"Yappango," an information site on Japanese companies' foreign ventures, explains that having many young people creates an abundant workforce, and can also stimulate an active consumer economy due to life events such as marriage, childbirth and education.
Additionally, Indonesia has a wealth of natural resources such as various metals, oil, and natural gases. These exports are supporting the country's economic growth. Many Japanese companies are starting businesses in Indonesia, due to its merits as a manufacturing point for these natural resources, as well as being an appealing consumer market. Indonesia outranked China and placed first in the ranking of popular countries for Japanese companies to start businesses in, based on JETRO (Japan External Trade Organization)'s 2013 survey.
This increase of Japanese companies going into Indonesia seems to be related to Indonesian people's friendliness towards Japan. In the 2014 ASEAN survey by the Minister of Foreign Affairs, Japan was voted first place as the "most trustable country in the world" and an "important partner today" in Indonesia.
Facts about Indonesia
According to "Introduction to Indonesian - Internet Version (Chounyumon Indonesia-go -Intaanetto-ban in the original Japanese title)," Indonesian, the official language of Indonesia, is now being learned in around 40 countries around the world, including Japan. Indonesian is said to be one of the easiest languages to learn in the world, at least in the beginner level. I will summarize here in a few points why it is so, using the above website as reference.
Usage of the English Alphabet
Compared to writings like Cryillic or Thai, which look difficult, people tend not to shy away from Indonesian because they already know the letters.
Easy Pronunciation
Unlike Chinese, there are no difficult tones, and no difference in meaning deriving from a difference in accent. As a general rule, you can simply pronounce it as it reads.
Simple Grammar
There is no change in word form that comes from case inflexion or tense. Whether it's a noun or a verb, if you just memorize the roots of words, you can simply combine them to say what you want to say.
The website of Kanda University of International Studies, a university that provides Indonesian language as a major, also states that Indonesian is a very easy language for Japanese people to learn. The Indonesian-speaking population is said to be the fourth largest in the world, so being able to speak it would broaden your opportunities for communication.
Lastly, I would like to introduce a few business manners in Indonesia which I found on the website "Global Biz." In business scenes in Indonesia, it is better to call people by their job titles, if possible. If somebody does not have a particular post, it is polite to put "Bapak" (meaning Mr.) before a man's name, and "Ibu" (meaning Mrs./Miss) before a woman's. One usually shakes hands with someone they meet for the first time, but when meeting a woman, one only shakes hands with her if she shows signs of doing so herself.
Additionally, you should use your right hand when giving or receiving something, because in both Islam and Hindu religions, the left hand is seen as impure. So, we ought to keep this in mind when handing gifts or papers to someone.
A Country with Youthful Vitality
In Indonesia, it seems like many people of my generation are playing a big role in society. Having learned that the Indonesian language is relatively easy to master, I now have a desire to achieve sufficient communication skills in Indonesian and go there someday. Although the beach resort Bali is popular, I'm also interested in going to the capital Jakarta and getting a feel of local life there.
Related Services
To Contact Us Regarding Our Translation Services
For urgent needs, call:
+81-3-5730-6133