The Czech Republic's Counterpart? - Slovakia and the Slovak Language
November 6, 2017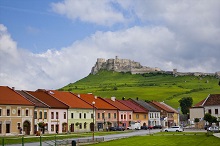 Hello, I'm Yosshi. I entered the translation business two years ago, dreaming of an international career. Since then, every day I keep discovering more about the ever-fascinating world of translation.
I was at a travel agency the other day, and happened to see a page on Slovakia, a country next to the Czech Republic, in one of the tour pamphlets I was looking through. The two countries used to be united as Czechoslovakia, which is how Slovakia came to be called "the Czech Republic's counterpart." I became interested in Slovakia, and decided to do a little research.
Slovakia's Past and Present
Looking at Slovakia's location on the map, I found that it had the Czech Republic to its northwest, Poland to its north, Ukraine to its east, Hungary to its south, and Austria to its southwest. According to the website of the Ministry of Foreign Affairs, Slovakia's land area is one-seventh of that of Japan. This is three-fifths of Hokkaido's land area, so we could say that this is a relatively small country. An article on a website by Shinchosha, called the "Foresight," writes that Czechoslovakia split peacefully into the Czech Republic and Slovakia in 1993, after the fall of the Berlin Wall.
In fact, these two countries each have a different historical background, with the Czech Republic having been under German control, and Slovakia under Hungary's. Slovakia has less land area as well as population than the Czech Republic, and is therefore sometimes called "cheko no kataware" (the counterpart of the Czech Republic) in Japan. To be honest, I knew about the Czech Republic, but barely knew anything about Slovakia.
However, according to Shinchosha's "Foresight," Slovakia has made astonishing economic progress due to its auto-making industry, and has surpassed the Czech Republic in terms of economic growth rate. In fact, Slovakia came in first place in the 2012 ranking of the number of automobiles made for every 1000 citizens, boasting 164 automobiles, followed by the Czech Republic's 112. Additionally, according to Japan External Trade Organization (JETRO), there are over 40 Japanese companies that have a foothold in Slovakia. Furthermore, in the "Ease of Doing Business" ranking by the World Bank, Slovakia was placed 37th, while the Czech Republic was at 44th, illustrating that Slovakia is in the top class within the main central east European countries. In this circumstance, the phrase "the Czech Republic's counterpart" is undeniably getting old.
Facts to Know about Slovakia
Next, I did a little research on the country's official language, Slovak. I found a column on the Slovak language, on the website of an online English school called "e Atlas." I have summarized my findings in the paragraphs below.
Both Slovak and Czech belong to the West Slavic languages within the Indo-European language family, and thus are close to Polish. Czech and Slovak are very similar, so Czechs and Slovaks can generally communicate with each other using their own respective languages. In Slovakia, there are many publications and broadcasts in Czech, so it is quite ordinary for Slovaks to understand the Czech language.
According to a Slovak language expert in the Ministry of Foreign Affairs, the difficulty in learning Slovak lies in its case inflections, which is one of the characteristics of Slavic languages. In Japanese, the noun never changes, but the case is defined by the postpositional particle. In Slovak, the noun itself changes to signify the case, and for each noun, there are six types of singulars and six types of plurals, making 12 different changes in total. The one relief for Japanese people is that unlike the other Slavic languages like Russian and Bulgarian, the writing is not in the Cyrillic alphabet, but in the Latin alphabet.
The language seems quite difficult, but I found one advantage of Slovakia that comes from being a small country. According to the article "Life of an Expatriate" on Shukatsu Journal, you can cross national borders without a passport if that area is covered by the Schengen Agreement, which Slovakia is. Slovakia is also connected to neighboring countries by a highway, so from Slovakia's capital Bratislava, it only takes 15 minutes to Austria, 30 minutes to Hungary, and one hour to the Czech Republic by car. This makes Slovakia a good base from which to travel to different places.
An Attractive Country Building on its Unique Strengths
Slovakia has occasionally been referred to as "the Czech Republic's counterpart." I myself did not know much about Slovakia even though I had known about the Czech Republic. As I learned more about the country however, I became drawn into how it was using its unique strengths to achieve growth. I'll remember Slovakia as a good option for staying in if I ever go traveling to different places in Central Europe.
Related Services
To Contact Us Regarding Our Translation Services
For urgent needs, call:
+81-3-5730-6133