A Former Yugoslavian Slow Starter - Macedonia and the Macedonian Language
September 4, 2017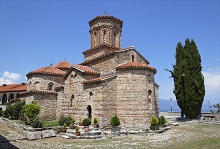 Hello. I am Yucchi, a fledgling translator who transferred last autumn from a different field. I've only just started in translation so I have much to learn, but I'm studying hard with the help of my seniors.
I was drawn to a red and yellow national flag that I found on "Nikkei Business ONLINE," and reading that article, I learned that it was the flag of Macedonia. According to the article, Macedonia was one of the slowest developing countries out of the six republics and two autonomous regions that originated after the disintegration of former Yugoslavia. However, it came in 30th place in the 2015 World Bank's "Doing Business" index, closely following Japan, which placed 29th. I was intrigued by how this country was able to achieve such remarkable growth, and decided to do a little research.
Macedonia's History and How it Achieved Its Present Rate of Growth
Looking at the map, I saw that Macedonia is located in the Balkan peninsula, and is a land-locked country, surrounded by Greece to the south, Bulgaria to the east, Albania to the west, and Serbia and Kosovo to the north. According to the Ministry of Foreign Affairs (MoFA), Macedonia's land mass is two-thirds the size of the Kyushu region in Japan.
According to Nikkei Business ONLINE, Macedonia was struggling economically during its time as a part of Yugoslavia; in fact, its economy was only one-sixth of its developed neighbor Slovenia. Historically, Macedonia has been an agriculture-based country, and tobacco in particular is still one of their main products today. Leaf tobacco made in Macedonia is regarded as high quality for its aroma, among other characteristics, and it is in demand worldwide as an international brand. As such, Macedonia has a long history of agriculture, but during its time as Yugoslavia, Soviet-style industrialization policies were implemented, and Macedonia began to transform itself into an industrial nation.
Macedonia rose from being the poorest country in former Yugoslavia to placing 30th in the World Bank's Doing Business ranking in 2015. According to MoFA, Macedonia's current goal is membership in the EU and NATO, and it has achieved a candidate country status in December 2015.
Facts about Macedonia
According to the book The Globe-Trotter Travel Guidebook (Chikyu no arukikata in Japanese), there are many people in Macedonia who speak Albanian, Turkish, and Greek in addition to the official language, Macedonian. In terms of foreign languages, it seems that languages like English, German and Italian can also be used to communicate. The Macedonian language is one of the South Slavic languages in the Slavic language group, and is said to be the closest to Bulgarian.
According to an online page Macedonian - Tips for Conversations During Travel (Makedoniago - tabikaiwa no moto in Japanese), Macedonian uses the Cyrillic alphabet, which is virtually the same as Russian. The five vowels are the same, so it should be relatively easy for those who have already mastered Russian. The accent is placed on the third to last syllable. If there is a suffix, the accent falls on the third to last syllable including it. If the word has only one or two syllables, the accent falls on the first syllable. It seems like much practice will be needed before one can learn to speak naturally.
I'm not particularly good with Cyrillic letters, but I think I can remember "da" (yes) and "ne" (no) in Macedonian. These simple words may one day be very useful when I have conversations in Macedonian.
Speaking of being useful in conversations, I found an interesting fact concerning Macedonia: although the world-famous Mother Teresa is usually thought of as an Albanian, she was actually born in Macedonia.
Stay Tuned to Future Movements in Macedonia
Despite its start as the poorest country in former Yugoslavia, Macedonia has overcome countless obstacles and seen great growth in its economy. From now on, I'm going to stay tuned to see if it achieves its larger goals of joining the EU and NATO!
Related Services
To Contact Us Regarding Our Translation Services
For urgent needs, call:
+81-3-5730-6133