The Czech Republic―The Beautiful City of Prague and Many Other Fascinating Features
March 13, 2017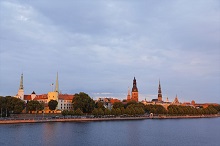 Hi, I'm Yucchi. I just recently transferred to the translation industry from another business field. Since this is my first time working in translation, I'm constantly learning so many new things each day with the help of my senior co-workers.
Prague is famous for its lovely scenery, and always ranks high as one of the world's most beautiful cities. Although I was familiar with the name of this European city, I wasn't exactly sure in which country it was located. This time, I decided to do some research on the Czech Republic.
Prague is the capital of the Czech Republic, it has a glorious history and once even was the center of the Holy Roman Empire. However, Prague's breathtaking scenery is only one of the many appealing features that the Czech Republic boasts. This small European country is also proud of its many museums, its deeply rooted history of fine music and, last but definitely not least, its savory beer! Today, I would like to share with you some of my findings on this fascinating country.
The History of the Czech Republic
A look at a map on the Ministry of Foreign Affairs website told me that the Czech Republic was an inland country, bordered by Germany, Poland, Slovakia and Austria. It was originally the western half of Czechoslovakia, but won independence in 1993, following World WarⅡand a string of revolutionary movements. You can tell, even from a quick read, that the Czech Republic has a fairly dramatic history.
The land area of the Czech Republic covers a surface that is approximately equal to that of one fifth of Japan and holds a population of around 10,540,000. The common language spoken there is Czech. Deeply affected mainly by the faltering economic situation that spread through Europe, the economy of this republic had been experiencing negative growth for a certain period. However, signs of steady recovery began to show in the last three months of the year 2013, and it recorded a positive growth rate in 2015.
An article by the Huffington Post TriPORT reports that many people describe Prague as the most beautiful city in the world. They seem to find many features of this city highly appealing, such as the fine music and literature, historic medieval structures and the vast variety of art galleries and museums. In fact, Prague is actually the hometown of many famous artists. To list a few, the great author Kafka and well-known composers such as Smetana and Dvořák were all born in Prague. I suppose it can be said that the remarkable scenery and exotic atmosphere of Prague is what has helped the city foster so many influential artists. Another interesting piece of information about Prague is that, according to a foreign language specialist from the Ministry of Foreign Affairs, Czechs are the world's biggest consumers of beer per capita. Czech beer is savory and inexpensive and is so widely consumed that it is even referred to as "liquid bread."
Useful Facts about the Czech Republic
Facts about the Czech language
Czech is categorized as a Slavic Language along with a variety of other languages such as Russian and Polish (Source: Tokyo University of Foreign Studies). Although they are both placed under the same language category, Czech, unlike Russian, is written using the Latin alphabet, and each letter essentially makes a single sound. The accent of most Czech words is put on the first syllable. Since Czech uses the Latin alphabet, it may be more approachable to Japanese people than Russian, which uses the unfamiliar Cyrillic alphabet. However, Japanese are expected to find the many types of declinations in this language quite complex.
A foreign language professional at the Ministry of Foreign Affairs tells us that, during the time period between the reign of the Hapsburg Empire in the 17th century and World WarⅡ, the use of Czech as a common language was banned and replaced by German. Later on, national revival movements and Czech restoration acts accomplished the restoration of Czech as the main language. It is hard to imagine how difficult a situation the Czech people must have been thrust into when they were suddenly forbidden from using their native language.
Business in Czech
Information from the kwintessential.co.uk website describes Czechs to be a reserved people who value formality. They are said to seldom be expressive about their emotions and prefer not to call others by first name unless they are family or have a very close relationship. Most companies follow a top-down hierarchical system where those in higher positions are in charge of making important decisions. Therefore, decision-making can often be a time-consuming process. Judging by this, one may be required a certain amount of patience when working with Czechs.
A Truly Fascinating Nation
Until I started my research for this article, I had not been quite sure which country Prague was located in. Now, I know that Prague is in the Czech Republic and that it is the birthplace of famous composers such as Dvořák and Smetana whose songs I had been familiar with from music classes at school. I was given the impression that fine classical music was highly accessible in the Czech Republic, so I wish to travel there someday and experience the admirable music. And, of course, not to forget trying some of their tasty Czech beer!
Related Services
To Contact Us Regarding Our Translation Services
For urgent needs, call:
+81-3-5730-6133