The Key to Global Business: Arabic, the Third Most Widely Used Language in the World
April 25, 2016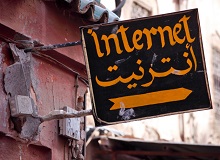 Maybe you are not too keen on studying Arabic because of its apparent complexity, but it is the third most widely used language in the world, after English and French.
With the increasing globalization of business, it is now usual to work across borders. No longer are the language barriers an impediment to business.
Arabic is a language of non-negligible importance for interaction with countries around the world.
Arabic-speaking Countries and Territories
Arabic is used as an official language in 27 countries including non-sovereign territories, mainly in and around the Arabian Peninsula as well as in the North African region north of the Sahara. Also, together with English, Spanish, Russian, French, and Chinese, it is among the official languages of UN organizations. Moreover, the Quran, the central religious text of Islam, one of the three major religions in the world, is written in Arabic. You will see that Arabic, though unfamiliar to the Japanese, is one of the major languages in the world.
Arabic may impress you as the language of the Middle and Near East, but you should note that it is not used by all Middle and Near East countries. For example, Iran uses Persian, Pakistan Urdu, and Afghanistan Dari. Before doing business in a foreign country, you should first identify the main language of the country.
Characteristics and Structure of Arabic
The shapes of the unique Arabic letters make them look very complicated to the Japanese. But knowing the basics of Arabic will facilitate the understanding of the language. As an introduction to Arabic, here is a brief description of its characteristics and structure.
Arabic is written from right to left. This may seem strange in horizontal writing. But Japanese has similar directionality in vertical writing, where the columns are ordered from right to left.
And the unique Arabic alphabet has 28 letters. The same letters take on different shapes, depending on where they are positioned - initially, medially, or finally - in a word. The differences are quite small, though, and are often confusing for beginners. Yet they must be recognized in order to read and write Arabic.
Growing Needs for Arabic
English is not widely used in many Middle and Near East countries. This makes Arabic very important for doing business with them. Saudi Arabia, for one, has regulations that require imported goods to be accompanied by user instructions in Arabic. Also, if you are to travel to some Middle East countries, you need an Arabic translation of the information shown in your passport.
Due mainly to its unique letters and grammatical characteristics, Arabic is believed to be one of the most difficult languages to translate and localize. With needs for Arabic translation growing in the business world, great attention must be paid to its accuracy.
Arabic is the Key to Doing Business in the Middle and Near East
As business becomes increasingly global, the demand for multilingual translation continues rising. In addition to English and Chinese, among others, Arabic is of critical importance for interaction with Middle and Near East countries. Arabic-speaking Japanese people are far fewer than English- or Chinese-speaking Japanese. Given these realities, we believe proficiency in Arabic will provide an advantage in doing business in the Middle and Near East.
Related Services
To Contact Us Regarding Our Translation Services
For urgent needs, call:
+81-3-5730-6133