Hanako Muraoka: Pioneering Female Translator Re-spotlighted by "Hanako and Anne"
January 18, 2016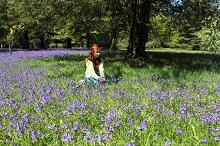 NHK's much-loved morning drama "Hanako and Anne" featured Hanako Muraoka, the translator of "Anne of Green Gables", a lively account of the sensitive red-haired heroine Anne and Canadian rural, everyday lives. The Japanese translation gained immediate success upon publication after WWII, and has since remained a favorite of many readers, especially females.
Hanako was one of Japan's first female translators. Let's take a look at her life to explore the secrets behind her fascinating works.
Secret 1: Deep Understanding of Culture and Religion
The most important factor contributing to Hanako's convincing translation of the "Anne" books was the fact that she lived communally with Canadian teachers when she was a high school student. She learned from them Canadian lifestyle and ways of thinking in the dormitory and the subjects like music, knitting, dressmaking, physical exercises and cooking in the classrooms. That the high school was a missionary one was also influential, deepening her understanding of Christianity.
Many quotidian scenes appear in "Anne of Green Gables"; we often find the characters engaged in routine, daily tasks such as cooking, knitting and dressmaking. Despite having never left Japan, Hanako nonetheless managed to translate such common affairs with matching spontaneity and ordinariness - a feat that might not have been accomplished so well if she had not shared the dormitory with Canadians.
In order to be a translator, you need to have a good command of the source language to understand the original texts correctly as well as a mastery of writing skills in the target language to reproduce the original meaning accurately and naturally. You should also have knowledge about the background culture and religion. Hanako was able to create such superb pieces of translation because she had gained those three qualifications through her experiences at high school and in the dormitory.
Secret 2: Always Care for Other People
In Hanako's every work we can sense her wish that everybody can lead a meaningful and hopeful life. Her love of English was not the only reason that made her decide to become a translator. For one thing, she needed to have a job to support her family. The biggest driving force, however, was her self-imposed determination to make the world a better place for children and women.
Hanako chose to study at a high school in a time when academic education was considered unnecessary for women. The social norm for women back then was to stay at home and be a homemaker for their husbands. Hanako was keenly aware, though, that learning had enriched her heart and widened her world. Books for children and women were necessary, she thought, to nurture their souls. And thus she started translating foreign novels. She even authored some novels of her own.
She also participated in campaigns for women's suffrage and appeared on radio shows for children. Her yearning to create a better society for everybody was genuine and strong, and we can sense it underlying all her works.
Secret 3: Responsibility and Confidence
We are fascinated by Anne because she, despite being an orphan, never indulges in self-pity and is always optimistic and dauntless. Anne stands on her own feet. The heroine embodies what Hanako believed a woman needed to be: an independent individual who can provide for herself without unconditionally depending on a man and who can serve a certain social role on her own.
Even today it is not easy for women to live independently and to play responsible roles in society. It is no wonder why the courage of Hanako, who armed herself with English skills to use them for society and other people, is still admired and respected.
Summing-up
Highly-honed language skills, deep understanding of culture and religion, yearning for a better life for everyone --- the life of Hanako Muraoka reminds us of what translation or localization is meant to be in the first place: it is a job to help someone to understand something. It is a task that cannot be done properly without empathy for foreign customs, feelings, or beliefs. We may conclude that the key to becoming a great translator is in trying to understand other people better.
Related Services
To Contact Us Regarding Our Translation Services
For urgent needs, call:
+81-3-5730-6133