Another Face of Japanese Hospitality: the Increasing Demand for Menu Translations
March 3, 2015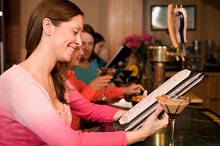 Following on from the decision to award the 2020 Olympics to Tokyo, in December 2013 Unesco placed washoku, or Japanese cuisine, on its Intangible Cultural Heritage List. Japan is now attracting a great deal of attention from across the world and the country is expected to welcome many more visitors from abroad.
Overseas visitors may well look forward to enjoying their three daily meals during their stays in Japan. There is no doubt that experiencing the distinctive flavors of a place is one of the great delights of traveling.
To everyone in the Japanese restaurant industry, are you ready?
Helping People in Tourist Locations Enjoy their Food
Food is one of the great pleasures of traveling. Surely everyone who has traveled has experienced a tingle of anticipation prior to going to such-and-such a place and trying such-and-such a dish. So, what memories do people take away after venturing into a local restaurant on an overseas trip? Unfortunately for some of us it could be a slightly disappointing experience: "I couldn't understand the menu so I had to order what someone else told me to."
The same can be said about visitors to Japan from overseas. Imagine what it would be like if restaurant menus contained not just Japanese but also English, romaji (Latinized Japanese) and photographs. Tourist customers would be able to experience the real Japan, decide for themselves what they want to eat, and order the dishes in Japanese.
Menu Translations are in Demand but Also Demanding
The demand for the translation of restaurant menus is growing year by year. While menu translations might appear straightforward at first glance, in fact they require considerable thought. A first important point is that the translations must not only accurately capture the content of the menu, but also enable foreign tourists to understand them correctly. Sometimes it is necessary to take the trouble to add some extra wording that does not appear in the original menu. Also, the wording used should help to whet the appetites of the customers.
Consider for example the menu for a Japanese barbecue or yakiniku restaurant. Organ meat cuts such as hatsu (heart), mino (tripe) and gobukuro (uterus) may be popular and enticing to Japanese customers, but can present real difficulties in translation. Menu translations require meticulous attention to detail and maximum ingenuity.
Consideration for Others, a Hallmark of Japanese Hospitality
When producing a foreign-language menu, it is worthwhile to include foreign-language expressions for the various ingredients used in the menu and also photographs. Not a few foreign tourists are unable to eat certain foods because of religious reasons or food allergies. For travelers who are subject to dietary restrictions, not knowing what is in their food can lead to some anxiety. When such people are able to understand what ingredients are used, they can work out for themselves what they can eat and what they want to eat, and their dining becomes a more enjoyable experience. Even if our guests are unable to understand our language, by considering situations from their perspective we Japanese can demonstrate the kind of hospitality that will broaden our global outlook and convey the welcoming feelings in our hearts.
Let's Get Ready to Welcome Overseas Visitors!
The production of foreign-language menus gives restaurant staff greater confidence and peace of mind. The anxiety they may hold over possibly having to explain their menus in unfamiliar languages disappears and potential problems arising from misunderstandings are avoided.
Let's get everything ready to welcome guests from across the world!
Related Services
To Contact Us Regarding Our Translation Services
For urgent needs, call:
+81-3-5730-6133