The Qualifications Required of Sports Interpreters and Their Rather Surprising Job Duties
November 21, 2014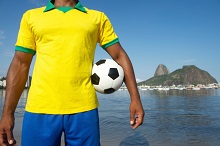 Keisuke Honda is a Japanese footballer who joined A.C. Milan in Italy's famous Serie A soccer league with great fanfare. Many of you probably remember him boldly and confidently answering every question at his introductory press conference in English.
On the other hand, Japanese footballer Hidetoshi Nakata, who now speaks fluent Italian, required his own personal interpreter during his playing days. As many Japanese major league baseball players depend on interpreters, people tend to view interpreters as an essential part of sports today.
Here, we will highlight the qualifications and role of sports interpreters who support athletes in their respective sports.
Interpreters as a Liaison Between Athletes and Coaches
When Italian coach Alberto Zaccheroni was appointed to head Japan's national soccer team in 2010 he emphasized dialogue with his players. In this sense, the interpreter must have played a very important role for the team.
In fact, interpreter and coach, Shunichiro Okano, worked as the interpreter for football coach Dettmar Cramer, who helped Japan make great progress at the 1964 Tokyo Olympics and 1968 Mexico City Olympics. Okano served as a liaison between players and coach, and admits there were times when he wouldn't convey the coach's harsh reprimands to players.
In other words, sports interpreters don't just translate spoken words, but also play an important role in facilitating smooth communication for the team.
Interpreters and Athletes - What Are the Considerations Made Toward Differences in Language and Culture?
Kenji Nimura, who served as pitcher Hiroki Kuroda's interpreter when he played for the Los Angeles Dodgers, said "being bilingual and being fully familiar with two cultures are two completely different things." He said that he makes it a point not to translate ambiguous expressions unique to Japanese culture word for word. Rather than simply translate, you really need to interpret meanings appropriate for each situation, which requires full awareness of the differences between two languages.
Sports Interpreters as Local Coordinators
Nimura's job extends beyond the baseball diamond, as he supports the daily needs of the player and his family. For example, he helps with shopping for food and daily essentials, obtaining an international driving permit, and finding information about Japanese restaurants for away games. Just like a local coordinator, he devotes himself to creating an environment where the player can concentrate on playing baseball.
Summary
Here, we introduced the qualifications and role of sports interpreters who support athletes excel under the bright lights from behind the scenes. They work as a liaison that facilitates smooth communication between athlete and coach, fully aware of various ques. They also serve in a role as a local coordinator who supports all aspects of the athlete's life locally. Interpretation abilities that extend beyond just language skills, intercultural understanding, and meticulous awareness are all essential qualifications of any sports interpreter.
Related Services
To Contact Us Regarding Our Translation Services
For urgent needs, call:
+81-3-5730-6133